A table set with refinement is the centerpiece of a successful reception. Christofle will help you create your own exceptional table.
Discover the art of sharing through indoor entertaining and gatherings.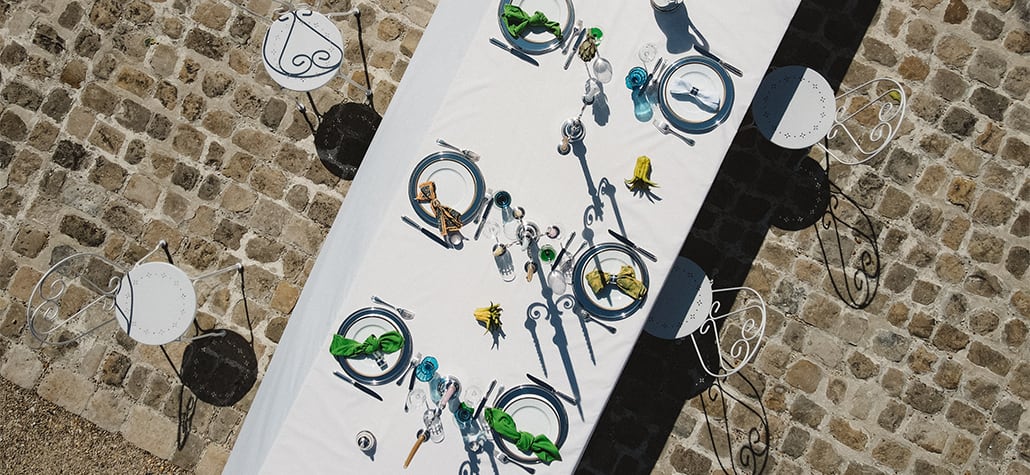 Porcelain
A finely decorated porcelain to underline the delicacy of your dishes.
Start your meal by presenting to your guests a refreshing salad, in one of the beautiful salad bowls Christofle offers. Then, Malmaison Collection will be perfect to present your delicious meals with elegance on its gold finished dinner plates.
What about finishing with a sweet pastry on the Madison 6 dessert plate ?
Trays and Serving Pieces
A silver plated tray is always a good idea to present your food with elegance. You can accompany it with silver plated serving pieces.
With two handles, the Malmaison silver plated oval tray is ideal for beverage service or tray-passed appetizers at an event.
You could also choose the Vertigo large silver plated round tray to serve your fish, and use the Jardin d'Eden silver plated fish knife with a fish fork to easily separate meat from fish bones to serve it.
Cutlery
Timeless cutlery whether classic or modern sets the perfect harmony for your table
For a traditional dinner, opt for the dining essentals with the 5-piece stainless steel set of cutlery L'ame de Christofle You can also break the rules and choose the new collection of essential cutlery, Infini Christofle.
Designed for casual moments, MOOD Easy will allow you to experience a wide variety of from sweet desserts to salty appetizers.
Candelabras
A candelabra to illuminate with brightness your moments of happiness.
Whether they are called candelabra, candlestick or candlestick holder, they illuminate with a warm and elegant halo and decorate your tables with a thousand lights.
Jardin, Malmaison, vertigo decorate your table with grace.
Napkin Rings
Engraved napkin rings for each of your guests to find their seat.
In sterling silver or silver plated, a Perles napkin rings will enhance your table with elegance. With your seating plan, surprise your guests by engraving there napkin rings with their name on it.
The Nathalie silver plated napkin ring, features two pairs of clean, classic parallel lines that circle the circumferences of the top and bottom edges of the ring.
Crystal Glasses
Crystal glass occupies a central place on the table. Translucent or colored, wine or water glass, it imposes its presence and is part of this millennial art dear to the house of Christofle.
For a colorfully designed table, Kawali Wine glasses exist in Green and Blue.
Iriana Collection offers various glasses that fits with all your meals.
You can opt for Champagne Flute glasses, Wine glasses, Water glasses or even old fashioned glasses.