A Decadent Friendsgiving
Those who follow Laura Kim on Instagram know that, in addition to being the creative director of Oscar de la Renta, Kim is also a highly skilled amateur chef with an exacting, haute standard for presentation.
For Kim, putting together a gathering at home is as much a creative exercise as her 9-to-5. Here she has given Thanksgiving her own free-spirited spin. Her tradition is hosting fellow Canadian expats and serving a mix of American and Asian cuisine. She likes to set up food and wine at different stations in her apartment so that people can move around and mingle, stopping at various destinations throughout the course of the evening.
To set the scene, Kim used a selection of silver trays from the Malmaison, Vertigo, and Graffiti collections to serve a rainbow tomato tart, cauliflower bread, latkes with smoked salmon, raksmorgas Swedish shrimp sandwiches, and dumplings. Rather than setting the table in a conventional sense, everything was plated so that guests could help themselves—even pulling their MOOD silverware from the distinctive egg-shaped case as needed.
As much as Kim likes her parties to have practicality in that way, she loves a touch of extravagance: for instance, her beloved silver-plated to-go coffee mug from Christofle, Kim says, "It's so unnecessary but really fabulous—I had to have one.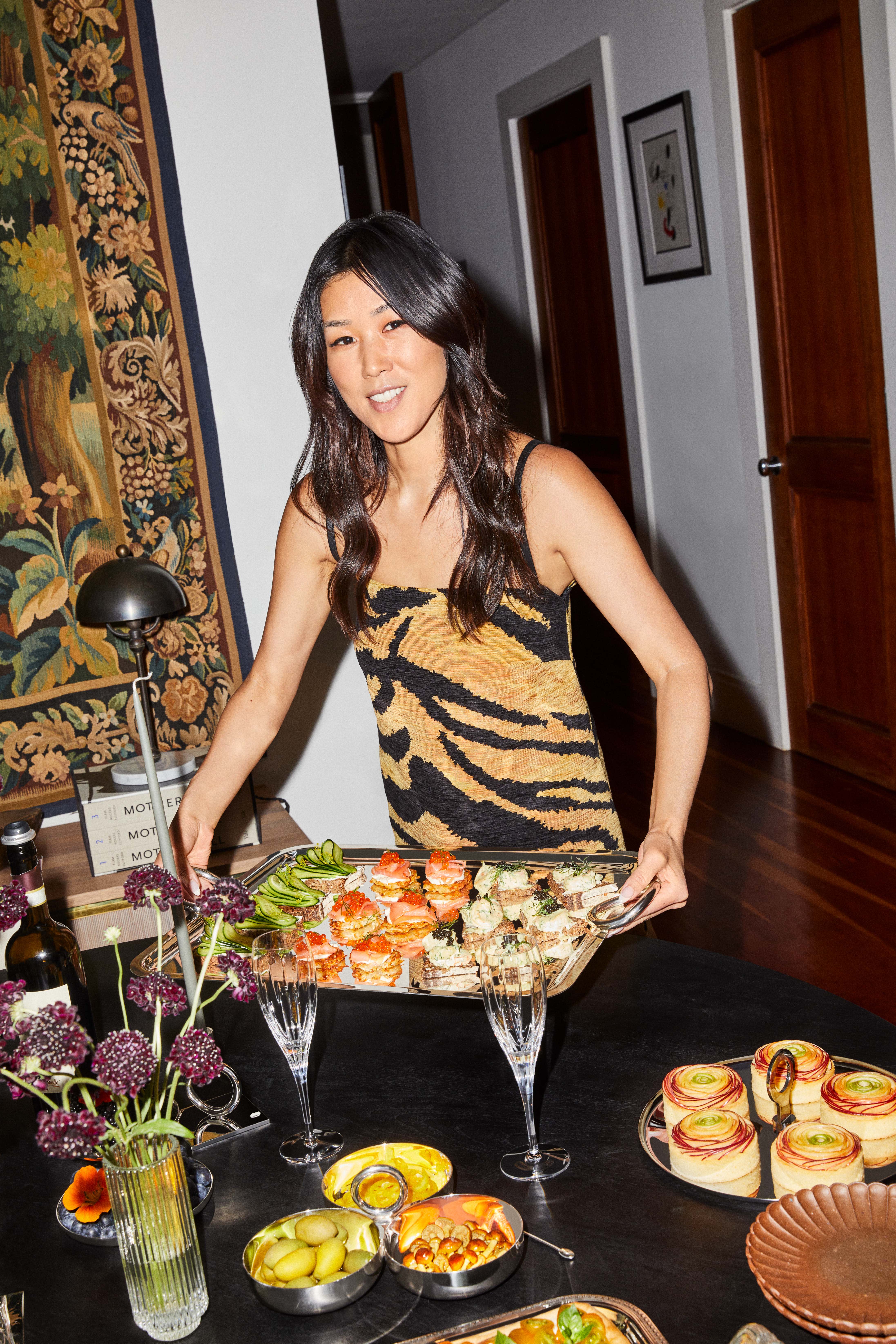 ---
Featured Products
Discover the selection of products Laura used to create her art on the table:
LAURA'S CAULIFLOWER SOURDOUGH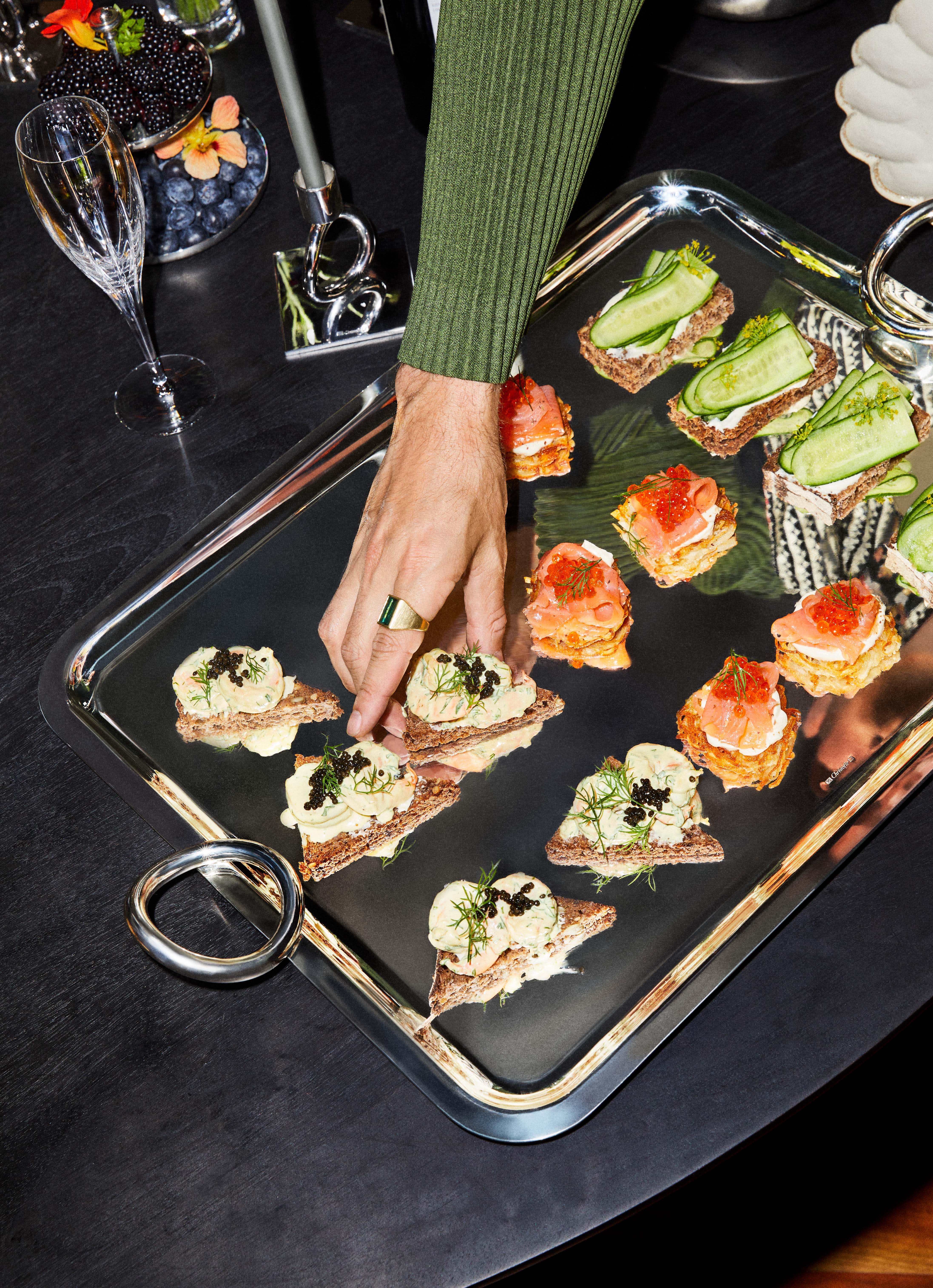 INGREDIENTS
- 1 cup all-purpose flour
- 1/2 cup lukewarm water
INSTRUCTIONS
In a clean glass bowl, mix ½ cup flour with ¼ cup water to form a thick paste. Cover the container loosely with a clean cloth and let it sit at room temperature for 24 hours. After 24 hours, there should be some bubbles and a slight rise in the starter.
Discard half of the starter (½ cup) and add another ½ cup of flour and ¼ cup water to the remaining starter. Mix well, cover loosely, and let it sit for another 24 hours.
Over the course of days 3 through 5, continue this process of discarding half of the starter and feeding it with ½ cup of flour and ¼ cup of water every 24 hours. The starter should be more active, with visible bubbles and a tangy smell. On day 6, the starter should be active and ready for baking.
If you plan to bake less frequently, you can move it to the refrigerator and feed it once a week.
INGREDIENTS
-1 cup active sourdough starter
- 2 cups bread flour
- 1 cup whole wheat flour
- 1 ½ tsp salt
- 1 ½ cups lukewarm water
- 1 head of cauliflower
- 1 tbsp curry powder
- 1 tbsp paprika
INSTRUCTIONS
Mix the ingredients together until they form a sticky dough. Cover it with a damp cloth, and let it rise at room temperature for about 4-6 hours, until it has doubled in size. Grab one side of the dough and fold it over the center, then repeat on the opposite side. Grab the top and loosely roll the dough over itself until you reach the bottom.
Then use your hands to push and pull the dough to create tension. Cover with a towel and transfer to the fridge. Let it rise for at least I hour or up to 24 hours.
Meanwhile, prepare the cauliflower. Sprinkle salt on the whole cauliflower head and lightly steam it. Off the heat, rub the cauliflower with curry powder and paprika to season. Let it cool to room temperature. When ready to bake, preheat the oven to 450° F. Cover the cauliflower with the dough. Place the dough-covered cauliflower onto parchment paper and, using a sharp knife, make a few slashes on top of the dough.
Put into preheated oven and bake for about 30-35 minutes, until golden brown. Remove from the oven and let it cool on a rack for at least an hour before slicing.
Enjoy with butter, mustard, or other sauce of your choice.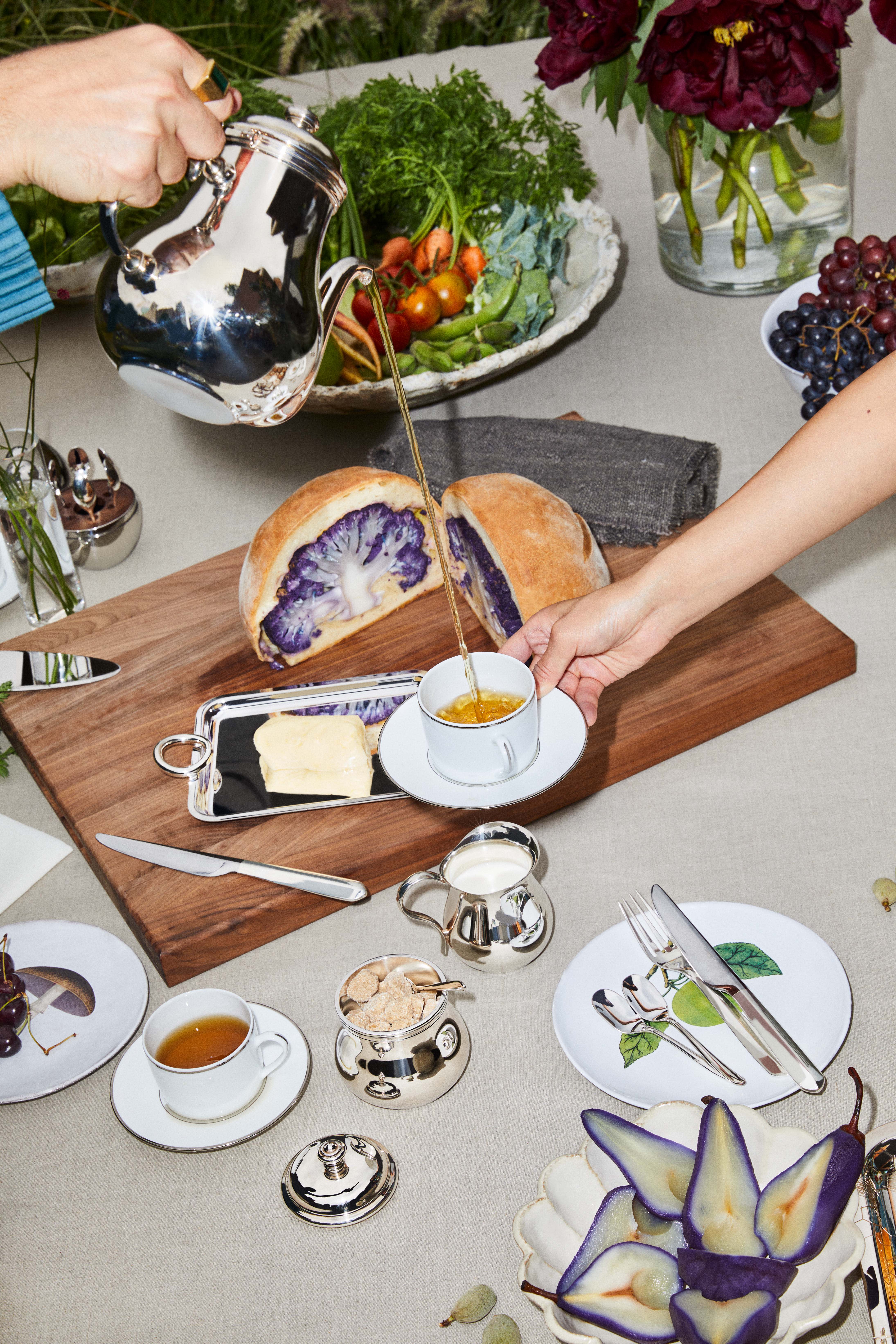 ---
Other Guest's Art on the Table
Discover our other hosts and their endless combinations and reinterpretations of tabletops for this holiday season.