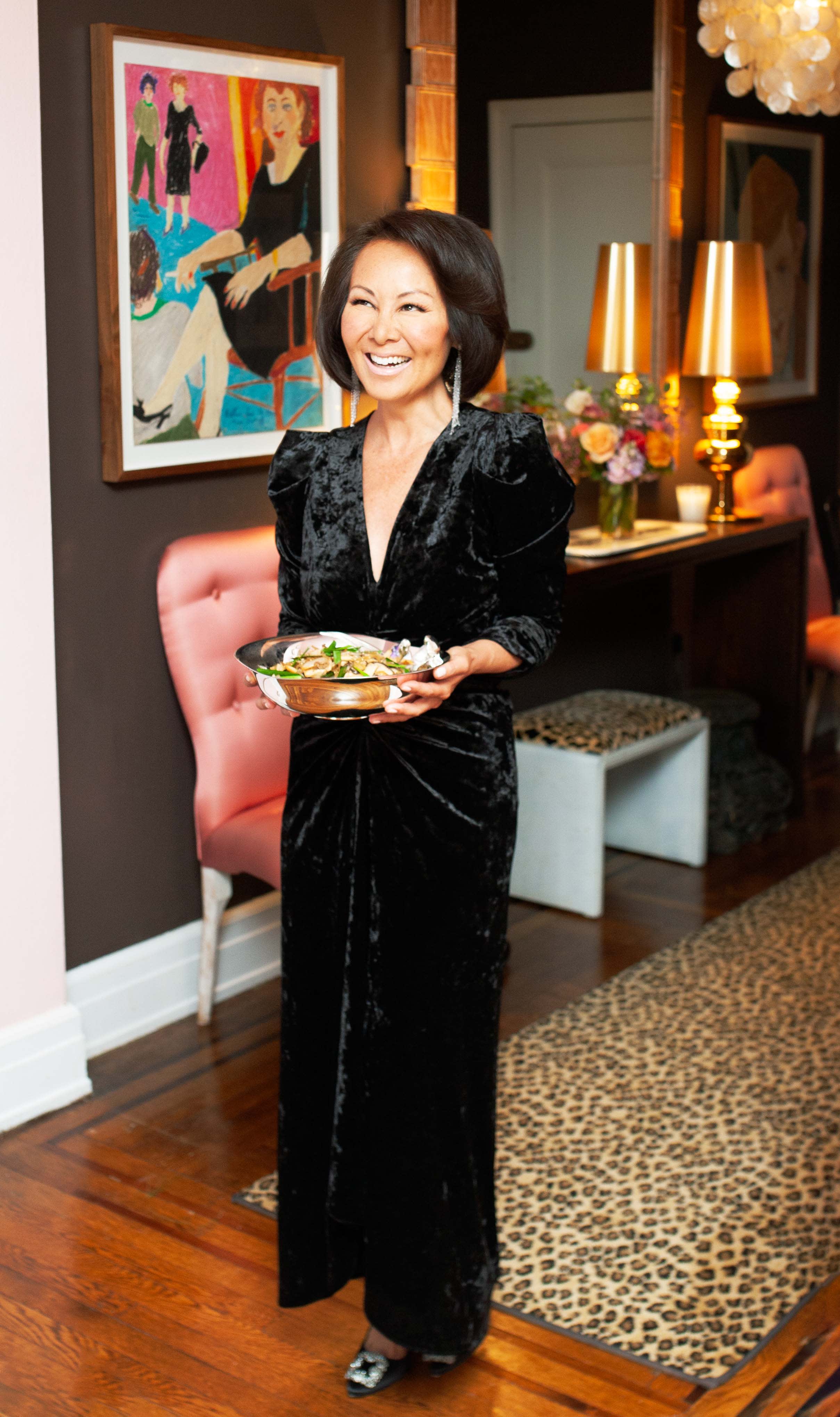 As an Emmy Award-winning journalist with more than 30 years of experience covering everything from presidential politics to fashion, Alina Cho knows what makes a great story. It's no surprise that her talent for crafting a narrative informs her approach to entertaining.
When setting the table for the holidays, "I love a pop of color, and I think it's always great when your table can tell a story, "Says Cho. Each item she uses to serve her guests is thoughtfully chosen and often comes with its own backstory. "My red and pink placemats for example, are from Capri, my favorite place in the world."
Cho chose Christofle's Graphik glassware collection to serve a favorite pomegranate mocktail swiped from the menu at Manhattan's Genesis House restaurant. For hors d'oeuvres, Cho opted for the MOOD Asia tray to serve an assortment of Korean starters.
The main course—Cho's mother's recipe for japchae, a traditional Korean noodle dish—was served in an artful, flower-accented bowl from the Anemone collection and eaten on platinum-rimmed dishes from the Malmaison Impériale porcelain collection. "What I love about Christofle in general and these pieces, in particular, is that they're at once modern and timeless," said Cho. "And let's not forget whimsical."
---
Featured Products
Discover the selection of products Alina used to create her art on the table:
INGREDIENTS
- 8 ounces sweet potato starch noodles
- 12 dried shitake mushrooms
- 8 ounces spinach, washed well
- 2 small white or yellow onions, sliced
-1 large carrot or 2 medium carrots, peeled and cut into two-inch-long matchsticks
- 1 bunch of flat Korean chives washed well and cut into four-inch-long pieces
INSTRUCTIONS
(Serves 6 to 8)
In separate bowls, soak noodles and mushrooms in hot tap water for 30 minutes. Meanwhile, bring a large pot of water to boil. Add spinach to boiling water and blanch. Immediately soak in cold water to retain color, then squeeze well to remove water and chop into bite-sized pieces.
Drain noodles and aside; if the noodles are too long, you can cut them with scissors. Drain mushrooms, remove stems, squeeze well to remove water, and slice. Cook each vegetable and noodles separately in a large pan with 2 tablespoons of vegetable oil (per ingredient).
Mix everything together with salt, pepper, sesame oil, sesame seeds and low-sodium soy sauce—to taste—and light brown sugar, if using.
For garnish: Cook egg whites and yolks separately in olive oil, sprinkled with salt. Make sure they are flat like a pancake. Cut yolks and whites into thin matchsticks and sprinkle on top of finished seasoned japchae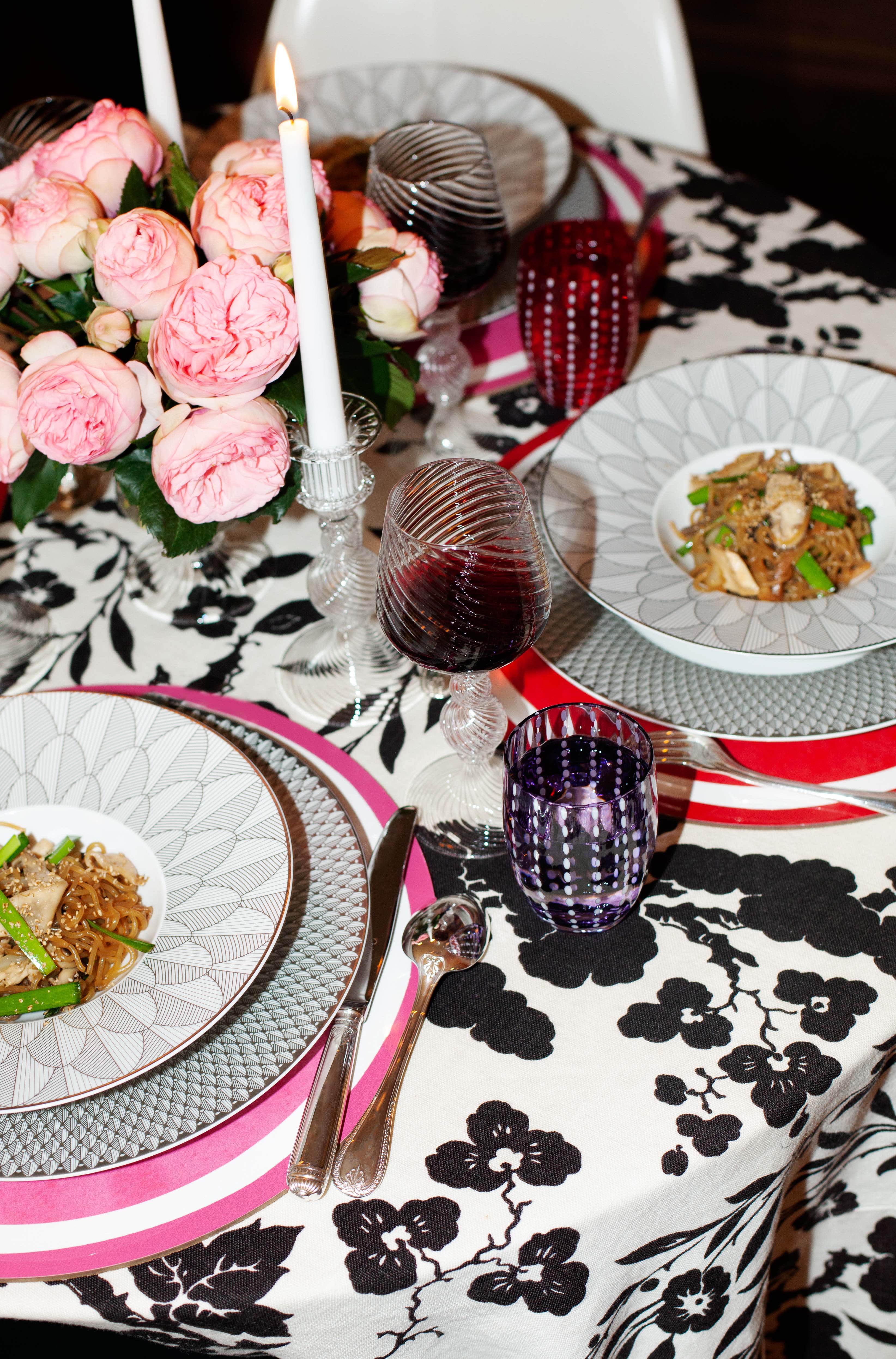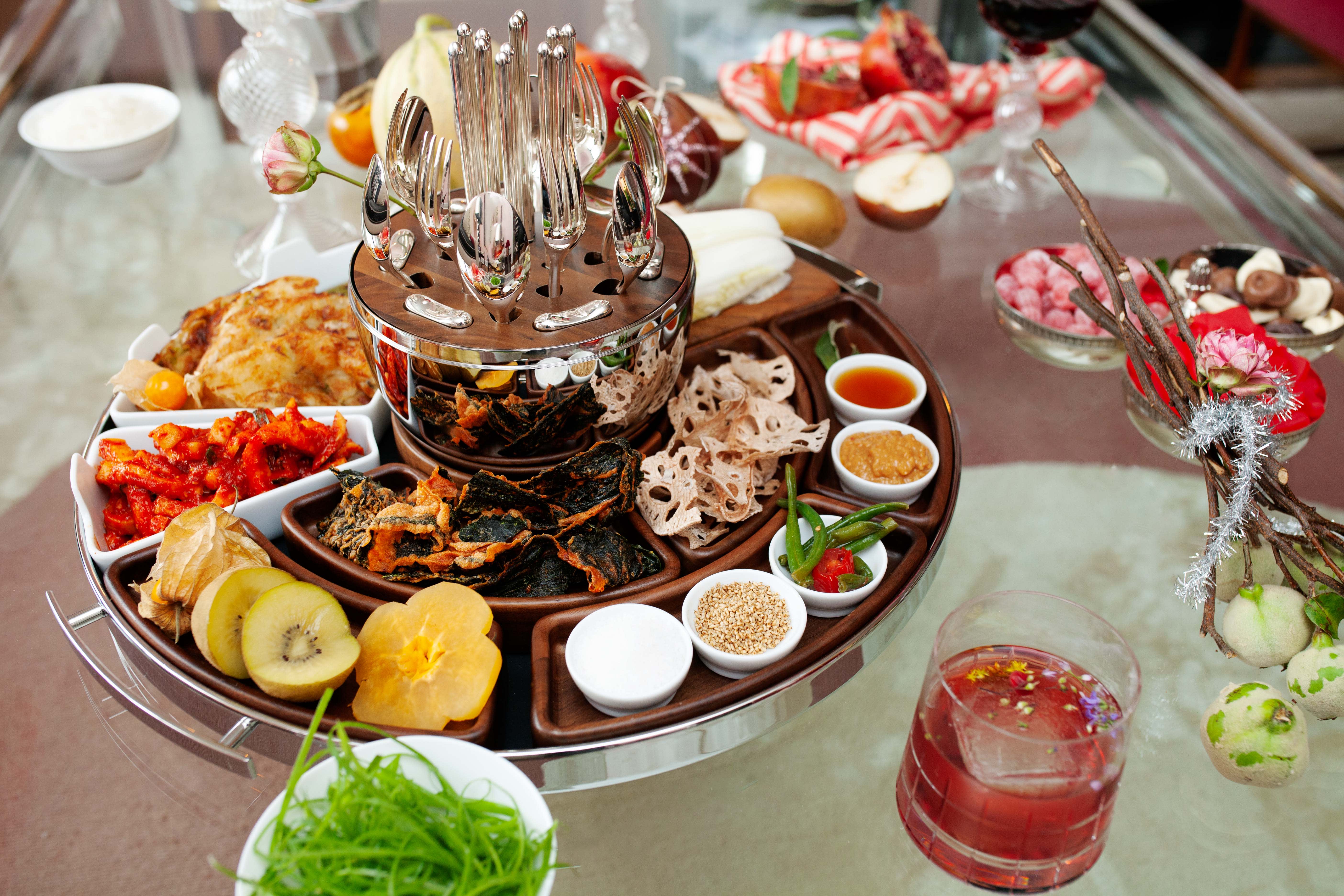 ---
Other Guest's Art on the Table
Discover our other hosts and their endless combinations and reinterpretations of tabletops for this holiday season.