The Holiday Boutique
Nov 19, 2020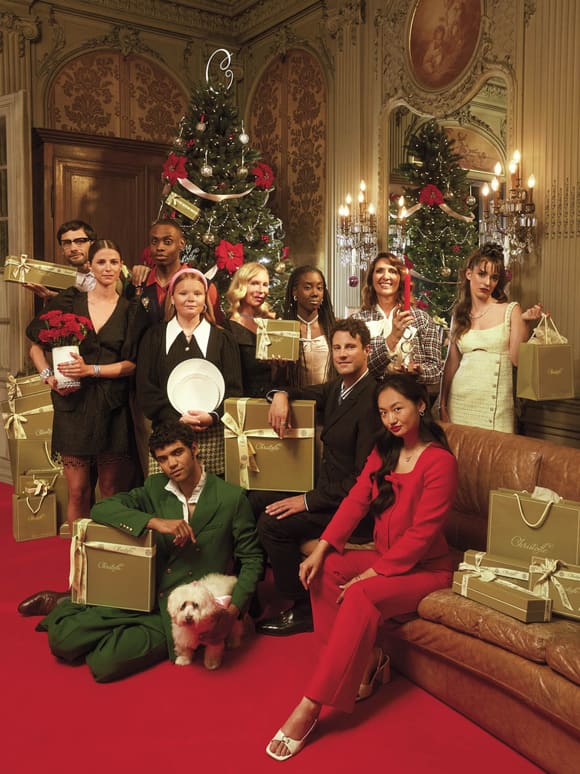 LISTEN CAREFULLY...
CAN YOU HEAR THAT DISTANT FESTIVE, SOUND?
A warm and cozy room, a melody that brings back happy memories, a majestic pine tree, stockings hung above the chimney, a stack of presents, and a sumptuously set dining table: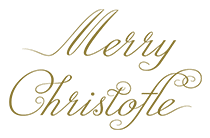 Christofle brings to life the hallmarks of all festivities.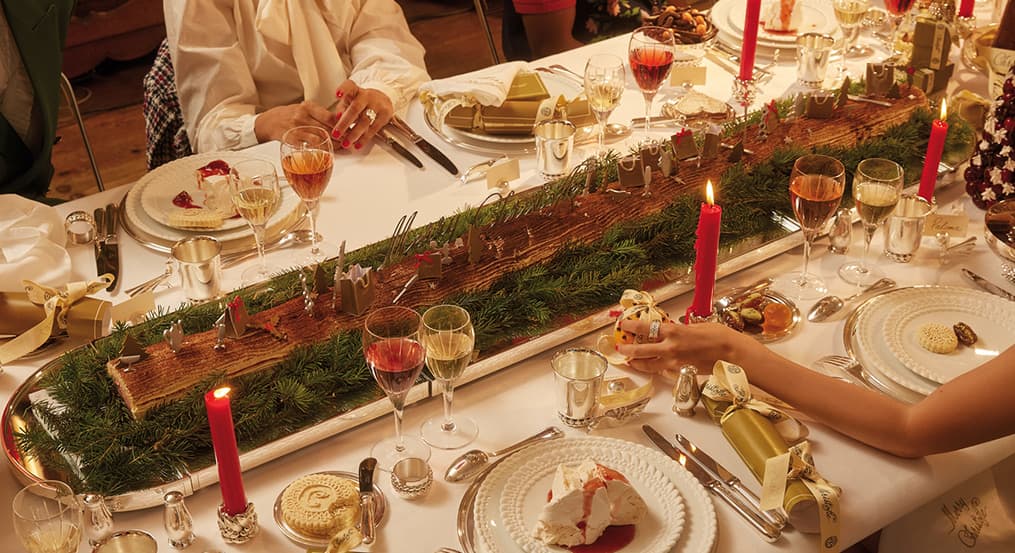 A CHOSEN FAMILY...
For this year's festivities Christofle unites its fellow conspirators to celebrate Merry Christofle.
A chosen family, an adopted clan, a galaxy of transgenerational, hedonistic personalities who have lent their talent and passion to Christofle and its customers.
They spread the Maison's know-how and excellence across the world.

HOLIDAY DECORATION

The comforting nuances of magenta-reds, pine greens and the Maison's imperial green are enhanced by the unique lustre of Christofle's omnipresent mirror-polish finish, as it catches the shimmer of an ornament on the tree, the brilliance of a silver platter, fluted glasses of a thousand reflections, and sparkling silverware.
HOLIDAY APERITIF

For the holiday season, brighten up your tables with sparkling cocktails and bar accessories!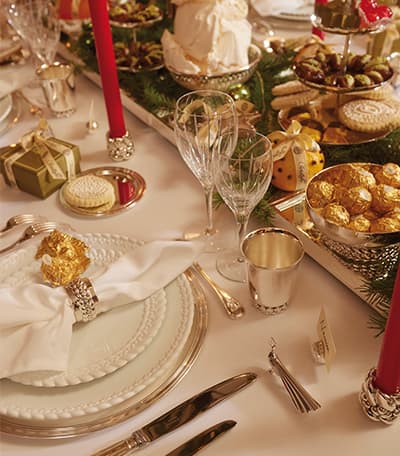 HOLIDAY TABLE

Discover Christofle's splendid flatware and small decorations to enhance your Holiday tables.
This year, indulgence is given pride of place: pyramids of French macaroons, gargantuan bowls of fresh fruit, candied chestnuts, meringues, orangettes, candied fruit, as well as an enormous Yule log.
Traditional decor intertwines with miniature candelabras, teapots, silverware, and Christofle gift bags.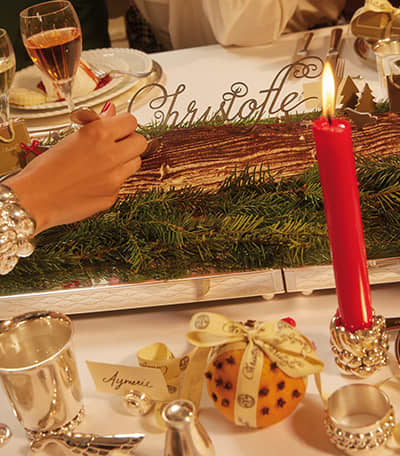 HOLIDAY GIFT IDEAS

Under the Christmas tree, a multitude of imperial green gift-wrapped packages, the Maison's signature color, are filled with candelabras, pitchers, fluted crystal glasses, sets of dishes, decorative bowls, or silver jewelry.
Merry Christofle sets the stage for these moments of celebration, dinner preparations, where the clinking of crystal glasses and silverware mingle with intimate conversations, and laughter from the guests.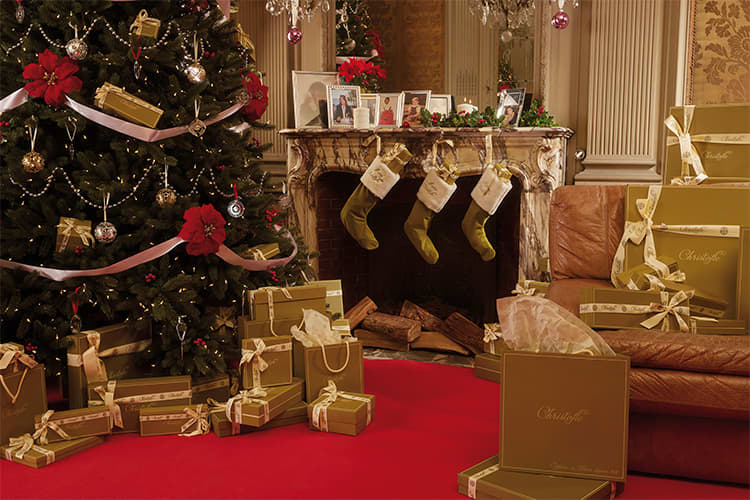 CHRISTMAS BRUNCH

Extend the pleasure until Christmas morning with a brunch! To accompany this moment, Christofle offers a large choice of product, from a silver coffee maker with elegant lines to a mignardise holder to offer all kinds of bites ... In all cases, carefully chosen dishes will enhance your meal.

THE PERFECT CHRISTMAS GIFT
Now it is time to finalize your holiday décor and check off
your gift list for your loved ones.
Discover Christofle's selection of gift ideas for your family and friends, while you uncover the most beautiful pieces that will enhance your holiday
table and Christmas tree.
HOLIDAY GIFT GUIDE
Want to offer a gift that lasts a lifetime ? We suggest the iconic Idole ring
designed by Andrée Putman.
It is the perfect adornment for one's hand and goes well with the silver earrings and pendant necklace from the same collection.
For a more modern gift, choose from our bar gift selection
for an aperitif or a wine testing.
Alternatively, stir up precious memories of friends and family with one of our timeless silver picture frame.
HOLIDAY DECOR IDEAS
The MOOD serves as both a 24-piece silver-plated flatware set and a
unique decorative piece.
It can be incorporated as an eye-catching holiday adornment for your table or an unexpected gift.
A festive holiday table is essential for a memorable celebration, so create the perfect scene with our silver cutlery,
table accessories, candelabras, champagne flutes and more, as a complement to your Christmas tree and other holiday décor.