Napkin rings
Aug 11, 2022
Christofle is enriching its collection of napkin rings with five new models bearing the names of important women in Charles Christofle's life – his mother, his three sisters and his daughter. They are: Anne, Hyacinthe, Henriette, Rosine and Marie Rose. Napkin rings appeared in France around 1800 and quickly became an essential tableware item throughout Europe. Circular in shape, they are designed to hold folded napkins in place, making napkins easy to store between lunch and dinner, and the napkin's owner easily identifiable.
During the 19th century, napkin rings were usually made of silver and engraved with iconic patterns of the day, adorned with coats of arms, monograms or names. Their customisability and their place in the collective imagination over the span of two centuries have made napkin rings the ideal gift for newborn babies. While they are representative of family life, symbolising the daily gathering of a community around a table, they are also luxury items.
Elegant and refined, napkin rings have become a social marker of belonging over time. The French phrase "having one's napkin ring" means being someone worth knowing. A customisable piece, the napkin ring is a timeless gift to celebrate happy events, especially births. It will enhance your table on big and small social occasions.
In tribute to the founder of the brand, Charles Christofle, and to his close-knit family, whose members have always supported each other in all their projects, Christofle invites you around his table, naming the napkin rings after five women who played a major role in his life and success.
NAPKIN RING | ANNE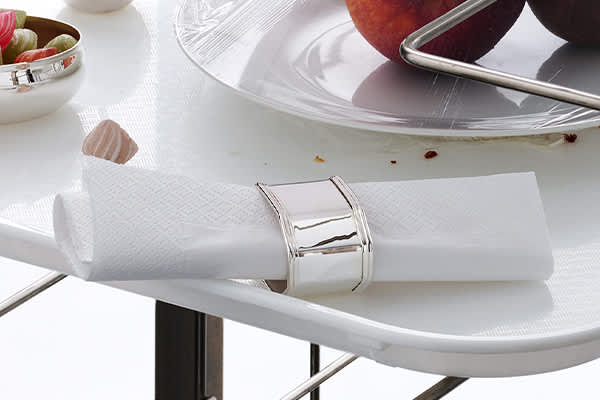 Anne was the name of Charles Christofle's mother (1772-1812).
She ran a button shop, gave it the name "Christofle" and above all a taste for business and innovation.
The napkin ring named Anne has a beautiful, clean octagonal shape; it is decorated with a raised edge. A timeless classic.
NAPKIN RING | HYACINTHE
Hyacinthe was the name of the older sister of Charles Christofle (1792-1857).
Another minimalist napkin ring, Hyacinthe, has Art Deco lines with an octagonal shape underlined by broad raised bands for a discreet geometric effect.
NAPKIN RING | ROSINE
Rosine is the name of the second sister of Charles Christofle (1795-1876).
A timeless piece, the Rosine napkin ring has the shape of an open oval ring, streaked with raised lines that curve very graphically at both ends.
NAPKIN RING | HENRIETTE
Henriette (Anne Henriette) was the name of the younger sister of Charles Christofle (1800-1837).
An additional Art Deco piece is the closed-circle Henriette napkin ring featuring a pattern of raised parallel rings very evocative of the 1930s. This elegant object is extraordinarily modern.
---
NAPKIN RING | MARIE-ROSE
Marie-Rose is the name of the daughter of Charles Christofle (1835-1918).
Napkin rin, Marie-Rose is decorated with two threads of raised beads of different sizes, a delicate Napoleon III period motif emblematic of 19th century refinement.