Care Guidance
Jul 18, 2022
SPRINGTIME CLEANING
Christofle is delighted to offer you
a Polishing Cloth for orders between €300 and €499
OR
Polishing Gloves for orders above €500
from March 6th - March 26th, 2023*
*A polishing cloth worth €28 VAT for orders between €300 and €499 or a box of two polishing gloves worth €42 VAT for orders above €500, on www.christofle.com/eu_fr and www.christofle.com/eu_en, from March 6th to March 26th, 2023 included, in the limit of available stock. One gift per order. Non-contractual pictures.
SILVERWARE AND DISHWASHER
The dishwasher is an effective way to keep Christofle silverware in perfect condition, provided you follow these very simple precautions:
Before the first use, wash your silverware by hand with a gentle liquid dish detergent without any synthetic perfume (citrus or lemons extracts are to be avoided).
Use only washing powders without chlorine or citric acid (avoid gels and liquids that often contain chlorine as well as "lemon perfumes" containing citric acid. Avoid multi-purpose tabs).
When filling your dishwasher with regenerating salt, avoid using silverware the first time.
Follow the dishwasher's instructions for water hardness: water with too much limestone is corrosive.
Eggs, lemons, mustard, fish and some fruits and legumes can also cause silverware to turn yellow. Pre-washing by hand may be helpful after these uses.
Caution: do not dishwash old knives (made before 1968).
Ideally, open the dishwasher door halfway at the end of the cycle so that the dishes do not remain in an atmosphere saturated with steam, and wipe the cutlery if it is STILL wet.
Avoid the presence of crystal glasses which may also tarnish the silver.
Separate sterling silver and stainless steel cutlery: sterling silver does not mix well with other metals. Make two separate dishes or place them in distant separate flatware baskets.
---
OCCASIONAL MAINTENANCE
Christofle has developed a range of exclusive and easy-to-use products to remove all traces of oxidation from your silverware.
After using each of these products, rinse with clear water and wipe clean.
A CLEANING PRODUCT FOR EACH PIECE...
FOR YOUR FLATWARE: THE FLASH SILVER CLEANER
For a quick cleaning. By dipping the cutlery (except the knife blade) for a few seconds in this product, the traces of oxidation disappear and they immediately regain their shine.
---
FOR GOLDSMITHERY PIECES:
THE SILVER CARE CREAM AND THE SILVER CARE LOTION
To clean, polish and shine in one operation.
---
FOR EVERYDAY CARE OF ALL YOUR SILVERWARE :
THE POLISHING GLOVESAND THE POLISHING CLOTH
Pre-impregnated with a cleaning agent, they are a pleasure to use, for a quick shine while keeping your hands clean.
---
PRODUCTS THAT DO NOT REQUIRE ANY CARE
All Christofle picture frames are varnished and do not require any special care.
Do not use any cleaning products: neither Christofle's cleaning products nor traditional cleaning products (for example, window cleaners) that could damage them.
A dry (or damp) cloth is sufficient to remove dust.
Christofle also offers wooden and silver items: when cleaning, avoid using cleaning products on the wooden parts.
---
HAND WASH
Use a soft sponge and soapy water without chlorine or citric acid (citrus or lemon scents are to be avoided).
Do not use anything that scratches or scuffs, or bleach or rubber.
Promptly dry with a soft cloth.
---
PORCELAIN CARE
We encourage you to use your Christofle service for all festive occasions as well as to enhance your everyday life. With a little care, you can enjoy your service for many years.
DISHWASHING
In order to maintain your service, we recommend that you occasionally use the dishwasher, with a low temperature wash cycle (economy cycle, 50°C maximum) using a powder detergent.
STORAGE
To preserve better the beauty of your service when storing it, we recommend that you slip a thin piece of paper between each plate or saucer and avoid stacking too many plates and cups.
---
MAINTENANCE OF STERLING SILVER JEWELRY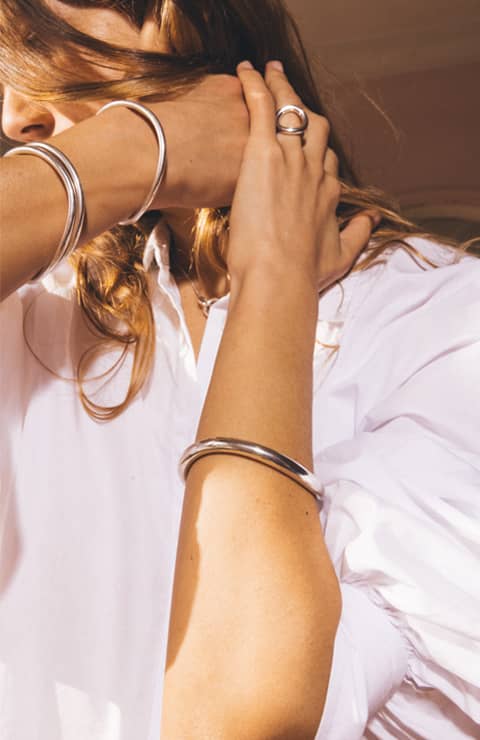 You have just acquired a Christofle jewel, a goldsmith's jewel in sterling silver. In order to preserve its beauty, we recommend you to follow these maintenance rules.
When you are not wearing your jewelry, store it in its anti-oxidant case. This case will preserve the shine and the brilliance of your jewel thanks to its treatment with silver salts.
When you wear your jewelry, it naturally becomes more and more mat. To restore its original shine, we recommend that you clean it with one of the Christofle cleaning products. We strongly advise against wearing your Christofle jewelry when swimming in the sea or in a pool.
All Christofle jewels are made of sterling silver (92.5%). If you wear your Christofle jewelry regularly, or if you store them in their anti-oxidant pouch (provided with each piece), they will not require any particular maintenance. If a slight tarnishing appears, Christofle has developed a range of exclusive and easy-to-use products.
After using each of these products, rinse with clean water and wipe dry with a soft cloth.
For your jewelry with links or decorated surfaces: the use of Christofle Flash Silver is recommended. Be careful not to dip clasps in the Flash Silver as they often have a steel part that could be damaged.