GIFTS BY THE THOUSANDS

Under the Christmas tree, a multitude of imperial green gift-wrapped packages, the Maison's signature color, are filled with candelabras, pitchers, fluted crystal glasses, sets of dishes, decorative bowls, or silver jewelry.
Are you thinking about a decorative gift such as a silver picture frame to make your immortalized moments stand out or a unique hand made porcelain vase ? Our silver and gold jewelry will guarantee success and matche the women who chooses to wear it from everyday to special occasions.
Moreover, our engraved selections such as napkin ring or a silver baby cup will make memories for a life time.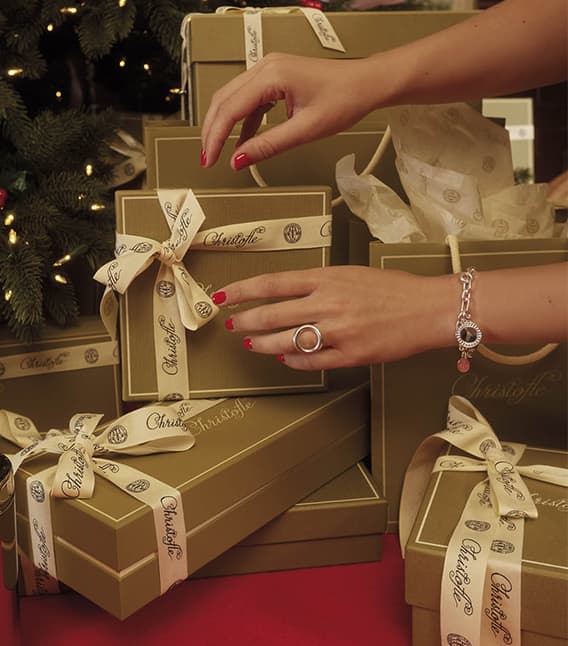 Gifts for Women

The Holiday season is the perfect occasion to stand out by finding the perfect gift for the special women in your life.
Between silver and gold Christofle has a wide range of collections, in which you can choose a jewel that will accompany her througout the years.
Gifts for Men

Discover a range of barware accessories for the cocktail and wine tasting including silver shaker, oenology gift set, champagne bucket, whisky glasses and more.
Lastly, consider accessories that make the perfect stocking stuffer such as a silver paperweight, luggage tag or money clip.

Gifts for Children

Exceptional Gifts

An exceptional gift for an exceptionnal person ?
Whether you opt for a sterling silverware or the uniquely designed Mood, this selection highlights the high-end expertise of Maison Christofle.

VINTAGE GIFTS

How about offering a timeless signature piece that has stood the test of time? An eco-responsible Christmas gift that is both elegant and modern. Christofle contributes to a more sustainable economy with its collection of Vintage pieces.
For Merry Christofle, the Silversmithery has gathered together its iconic table settings, along with additional new and exclusive creations for the end of the year.
PERSONALIZE YOUR GIFTS

PERSONALIZE YOUR GIFTS
Make your gift extra special with personalization.
Christofle offers a wide range of engravable products. Include a sweet message, nickname, important date on our selection of silver trays, picture frames, and baby items.
The possibilities are endless and makes for a truly original gift option.
A must-have for the holidays, an engraved silver tray allows you to write longer messages and let your creativity run wild.
For a simple option, engrave an important date or name on a small silver plaque that will be placed on a picture frame of your choosing.
Flatware can also be personalized with simple initials or a monogram that can add a touch of character and elegance.
Lastly, consider a silver baby cup or napkin ring that will be a precious souvenir to a child.