Trimmings with dazzling motifs...
Over time, fashion has borne witness to different types of trimmings, their patterns varying with great sophistication: tassels, fringes, cords, braids, lace and, lastly, pompoms.
This winter, Christofle bestows this particular motif on a cutlery collection and a jewelry line.

Cutlery
Four cutlery items with "pompom" trompe-l'oeil sculpted handles are available: a table knife, a table fork, a table spoon and a teaspoon. They come plated in silver or gold.

These items revisit pieces from the Madly Service produced in collaboration with Christian Lacroix between 1995 and 1997.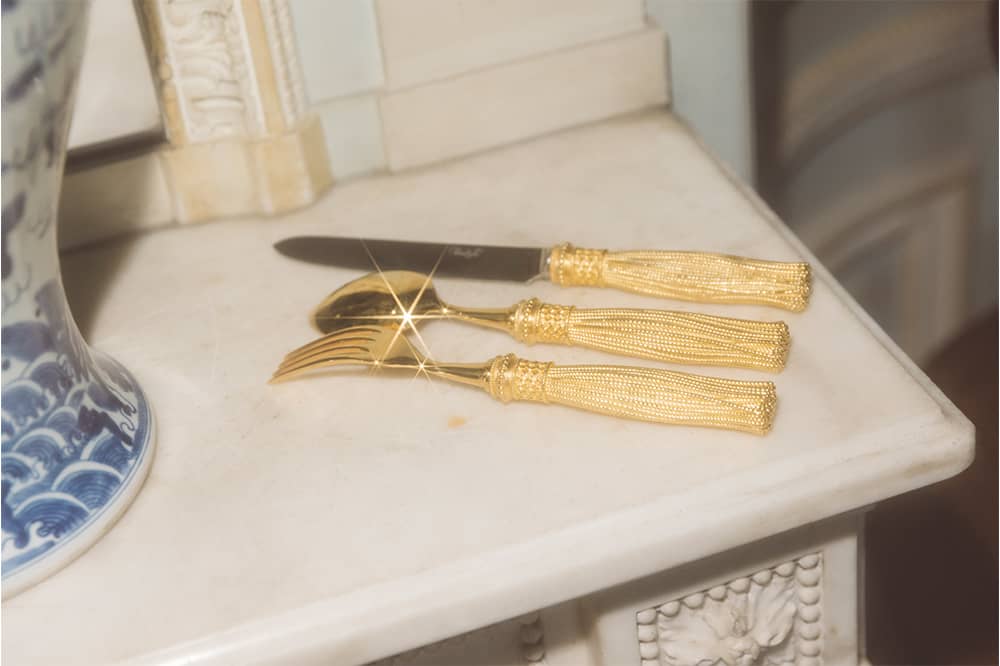 The handles replicate the configuration of the winding threads composing a pompom to convey the idea of a flowing trimming. The entangled mass of threads falls into a sinuous, irregular, undulating design.
Jewelry Line
The essence of sophisticated ornamentation, this trimming pattern lends itself perfectly to jewelry. As of November 2022, Christofle offers three pieces in silver or 18-carat gold plate: a small necklace consisting of a long chain with two pompoms on the end, a large necklace that can also double as an exquisite belt, a pair of earrings, a necklace with a lipstick holder, and a glasses chain.


The jewelry in Christofle's Pompon collection makes use of Byzantine chains, also called Royal or Peruvian mesh, or even "Birdcage" or "Fool's Dilemma", depending on the time period and geographical location. This flexible chain is made up of a geometrical tangle of rings threaded together in a precise and complex pattern.
Collection Patte de Lion
Among all Christofle's most sought-after pieces, one collection stands out for its extraordinary beauty and manufacturing, as well as its rarity:
the Lionskin collection designed in 1867 by Prince Louis-Napoléon's architect and decorator, Charles Rossigneux.