MOOD Collection
Mar 9, 2021

New and fun, MOOD is a cutlery setting for six people that offers a new take on the art of the table. Made up of two main elements, an oviform case and silver-plated cutlery presented vertically, it is ready to be picked up by your hand.
A design object of lust, MOOD shakes up conventions, annihilating the traditional placing of cutlery around the plate. MOOD and the cutlery it houses have been designed to be an integral part of the meal, acting as a centerpiece. Democratic and offbeat, MOOD sublimates everyday life.
The ovoid mirror-steel case, with a comforting and elegant curve, is no longer just a useful object, it becomes a graphic and contemporary decorative element that can be proudly displayed. What happens when the table is no longer set?
Each guest can use their cutlery at their convenience, choose what they need whenever they need it. In this way, the art of the table becomes personal freedom, a gesture that we make our own.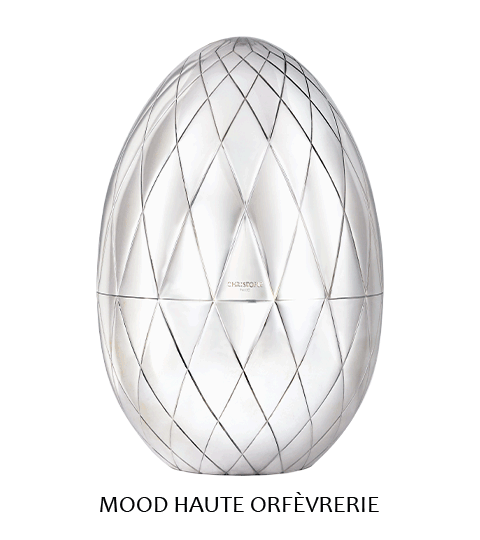 DEMOCRATIC AND OFFBEAT, MOOD SUBLIMATES EVERYDAY LIFE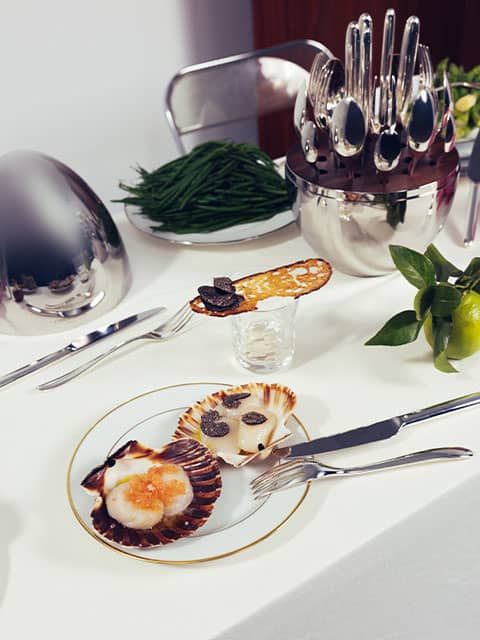 The cutlery in each box was designed by Christofle's Master Silversmiths, and they are just like MOOD: rounded and generous, the promise of ergonomic and easy handling. With pure and modern lines, their design is as delicate as it is versatile.
The shine provided by the brightening, a signature process of Maison Christofle, gives them a unique mirror effect.
MOOD cutlery adapts to different styles of table, from the most formal to the most convivial, including that of an elegant everyday life.
Eager to satisfy all desires, the MOOD collection was designed to enhance every moment of pleasure linked to the art of the table.
An informal brunch with friends, a weeknight family meal, a lunch on the grass, a coffee accompanied by sweets, a cocktail party with bubbles and nibbles…
Choose your moment or your size, from 30 cm for the MOOD By Christofle to 13 cm for the MOOD Coffee.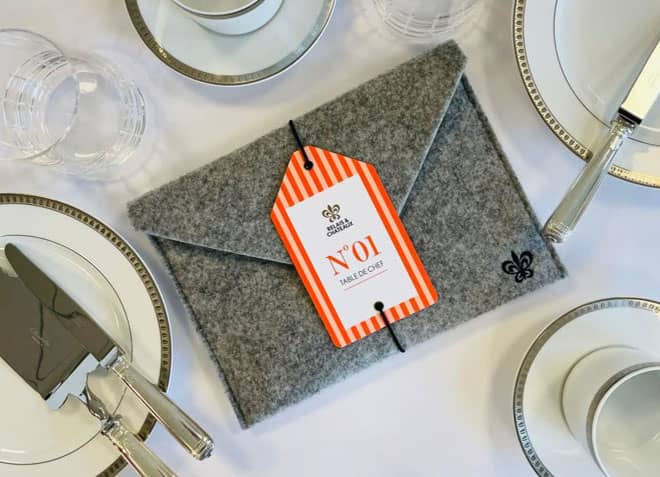 Christofle is delighted to offer you
a Relais & Châteaux gourmet experience
For any purchase above €1,800 until March 14th 2022*
*Offer valid on www.christofle.com and in our Christofle boutiques. A lunch or a dinner for two valued at €185 VAT included, in the Relais & Châteaux establishment of your choice among the partner properties listed on the RelaisChateaux.com. Offer is subject to availability. The offer cannot be combined with other current offers.
The collection's first born in 2015, it has been a bestseller since its creation, as the first to shake up the art of the table.
Composed of 24 pieces for 6 people, presented in an ovoid steel case, it is the ideal MOOD.
MOOD by Christofle is available in rose gold and yellow gold, with a case, like all the cutlery, fully gilded with 24-carat yellow gold.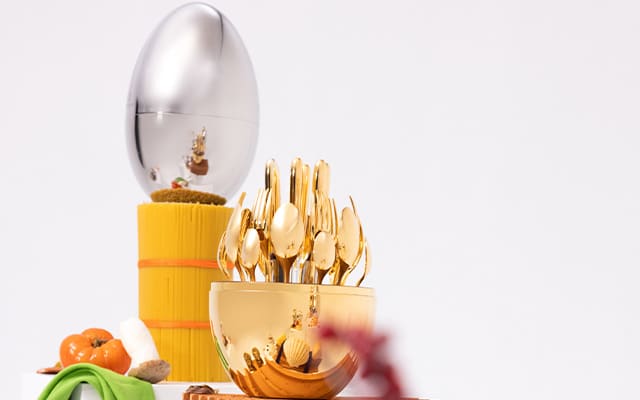 Discover MOOD in 3D
Discover MOOD in 3D. Clic on the coat of arms to open it, and use your mouse to move it.

Designed with versitility in mind, MOOD Easy is the ultimate stylish set for six, you will reach for every day.
Easy to use, its new smaller size fits into any interior. Lighter and easily movable, take it from the kitchen to the bar or coffee table.
The decorative case will bring a sparkle to your every day moments.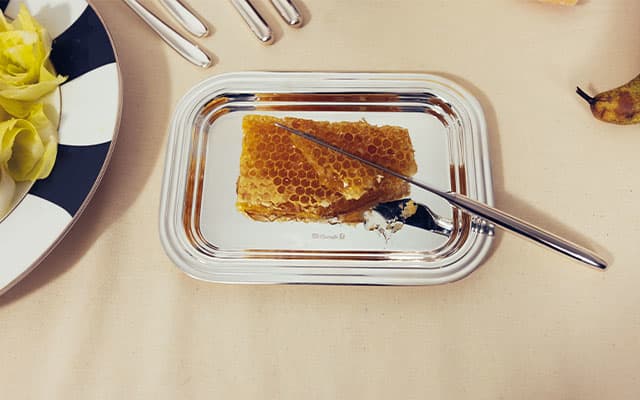 MOOD family is growing with the addition of a MOOD dedicated to Asian gastronomy.
This MOOD brings a bold nod to the East, with its composition, design, and practicality.
Imagined for all tables, MOOD Asia brings us together.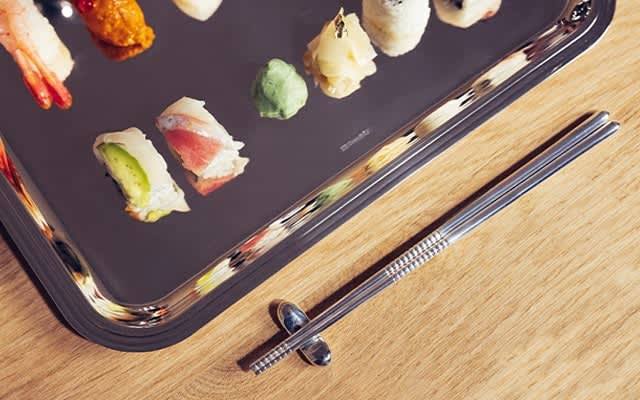 MOOD Party offers pieces that are as practical as they are user-friendly, such as verrine spoons, butter knives for each of the guests, as well as cocktail forks and picks.
Intended for aperitifs and cocktail parties, it offers a whole new way of entertaining.
Accompanied by a steel tray with a walnut presentation board, it extends into a central receptacle to receive the MOOD.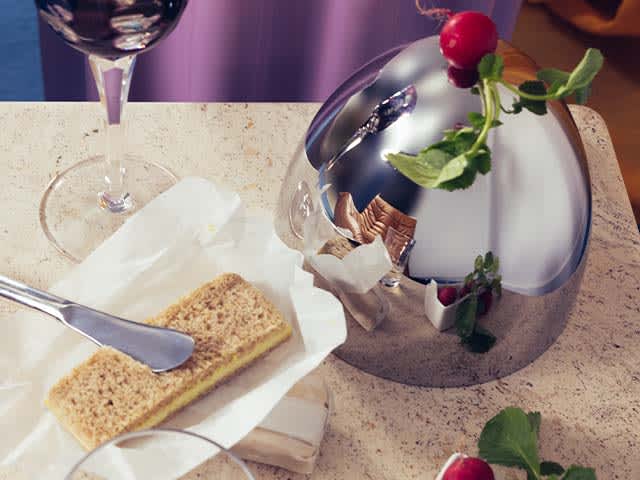 Recreate the warm and friendly atmosphere of a traditional coffee.
6 espresso spoons make up this set.
Available in precious version, the shell of which is in rose gold-like steel and the spoons gilded with 18-carat rose gold.
It is the smallest case in the MOOD collection.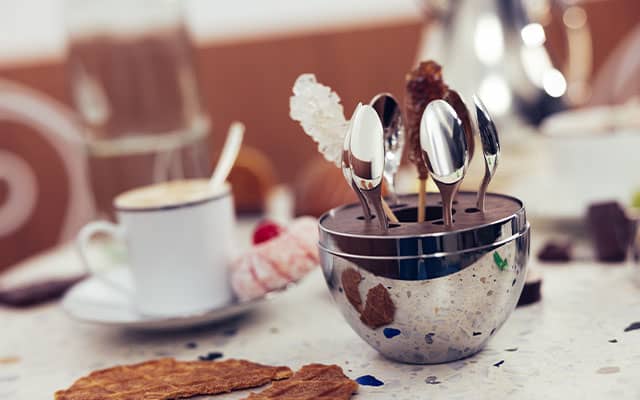 Christofle reinvents its iconic MOOD by offering the MOOD Skyline, which celebrates the architectural heritage of emblematic cities around the world such as Paris, London, New York, Shanghai, Moscow, Saint Petersburg and Japan, the only country represented for its global aesthetic.
Christofle thus pays tribute to all these cities which, since the creation of the house, have allowed its know-how to shine around the globe.
A true silversmith's treasure, it is made up of essential cutlery such as MOOD by Christofle and displays a steel shell engraved with the skyline of the city it represents.
A nod to the history of the house and its role as ambassador of the french art de vivre in the world.
MOOD Skyline is available in large format and in MOOD Coffee in all the cities of the collection.

To complete the MOOD collection, Christofle has developed the MOOD Haute Orfèvrerie. Its credo is to achieve the exceptional, Both for its cutlery and for the majestic case that houses it.
Combining elegance and excellence, this MOOD contains 24 pieces of cutlery for 6 people in solid silver. The culmination of an ancestral know-how, it offers a case also in solid silver, illuminated by a chasing technique.
Imagined as a collector's item, this MOOD highlights an unprecedented work of material and textures thanks to the prestigious work of the house's master goldsmiths.