Bonbonnières | Trinket boxes
Oct 12, 2022
The "bonbonnière" is originally a trinket box.
Charles Christofle, a jeweller by training, used to make bonbonnieres, silver boxes that were very popular at the time.
They were used to hold confectionery, lozenges or even apothecary pills. These small and light bonbonnieres were designed to be carried in pockets, purses or embroidered bags.
The boxes were beautifully crafted out of various materials, from lacquered wood to porcelain, gold and chased silver. Hence the French use of the term "bonbonniere" in the figurative sense, to describe a room, an apartment or a house decorated in an especially sophisticated fashion.
Christofle offers a selection of finely crafted silver-plated metal bonbonnieres in different styles and from different eras.
These eight precious boxes can be used to hold lozenges and small sweets, or as pill boxes, or small jewellery boxes for rings or chains, or boxes to store children's baby teeth, secrets, souvenirs or small treasures.
A magnificent and engravable object to immortalize special moments.
B04255197, B04255196, B04255195, B04255194, B04255193, B04255192, B04255191, B04255190
---
NEOCLASSICAL TRINKET BOXES
The Round Frieze bonbonniere and the Octagonal Cut-Sided bonbonniere are in the neoclassical style,
with frieze decorations formed of intertwined threads, pearls or geometric arabesques, all very skilfully engraved.
MANDORLE & MEDAILLON TRINKET BOX
The Mandorle and Medallion bonbonnieres are both oval in shape with raised borders.
Mandorle, from the Italian mandorla, boasts a geometric motif in the shape of an almond, often used as a frame for sacred images.
Medallion takes its name from its "medal" shape and has a motif framed in an oval very characteristic of the Louis XVI style, which regained popularity in the 19th century.
NATURE INSPIRED TRINKET BOXES
The Apple and Pear bonbonnieres both reflect the naturalist movement of the 1880s-1900s, before Art Nouveau stylised shapes inspired by Nature.
A small apple—a fruit that since ancient times has enjoyed great symbolic significance linked to femininity, power and wisdom—is depicted in the greatest detail, with a small leaf carved on its stem.
As for the pear, a sensual fruit, in France it is commonly associated with King Louis XIV as it was his favourite food and his gift of choice for his closest friends.
GOUSSET TRINKET BOXES
The Gousset bonbonniere takes its name from the round, flattened shape of a gusset watch, a very popular object in the 19th and early 20th centuries.
Its minimalist lines make it an ideal pill holder to slip into a pocket.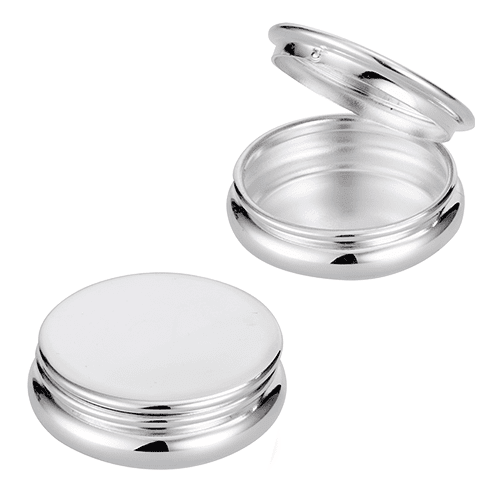 ACE OF DIAMONDS TRINKET BOXES
Inspired by playing cards, the elongated and rectangular Ace of Diamonds bonbonniere reflects themes from the Art Deco movement, using subtle curves to repeat the "diamond" pattern.