THE FJERDINGSTAD COLLECTION
Oct 13, 2022
AN ODE TO CURVES
Christian Fjerdingstad was a Danish silversmith born in 1891.
He worked with Christofle from 1924 to 1940 under the aegis of Luc Lanel : both were key representatives of the brand's Art Deco movement.
This year, for the first time, Christofle is reissuing a selection of exceptional pieces created by Christian Fjerdingstad,
including two major design classics: the Stork Coffee Pot of 1926 and the "1925" Tea & Coffee Service.
1925 TEA & COFFEE SET
The "1925" tea or coffee set embodies an absolute Art Deco style.
All in circles and straight lines adorned with precious wooden handles, stained Dos Santos rosewood that contrasts with the light of silver.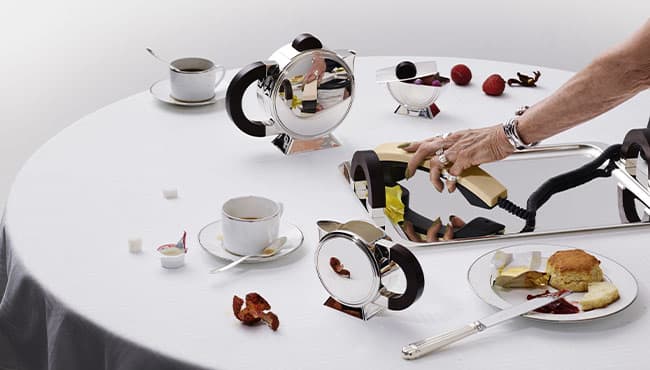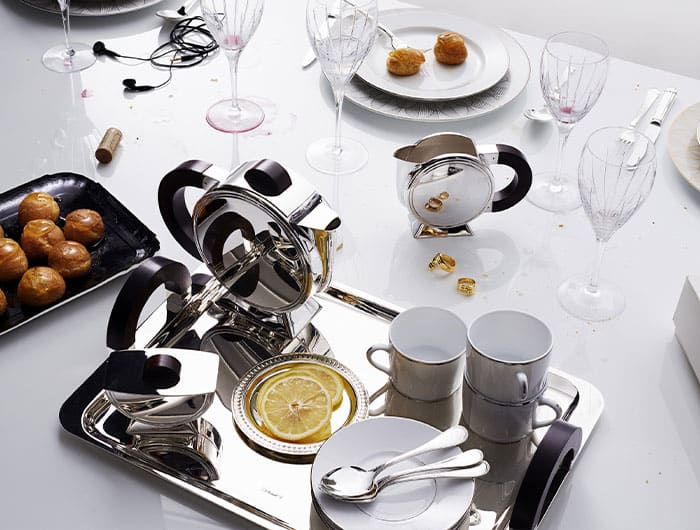 GIGOGNE COFFEE POT
The Stork Coffee Pot's bold, smart design heralded the growing popularity of the Modernist style and even some Post-Modernist Italian creations of the 80s.
DOUBLE FRUIT BOWL
An exception in Art Deco, Fjerdingstad prefigures the Scandinavian style in the design of the 50's or 60's, with clean lines that keep an organic, natural side.
The sinuous and geometric forms of this 1935 double fruit bowl evoke the sea waves he used to observe from his father's lighthouse as a child.
FOUR-RING CENTERPIECE
The 4-ring centrepiece, a bowl created by Fjerdingstad in 1935, has rings that serve as an elegant base.
BISCUIT BOX
The biscuit tin's geometric purity and simple elegance are a testament
to the teachings of the Art Deco style in the interwar period in Europe.

WATER PITCHER WITH GILDED HANDLE
A water pitcher with a gilded handle,
made in 1936 by Fjerdingstad.
Its golden handle emphasizes the beauty of the piece.
CENTERPIECE WITH GILDED HANDLES
The two golden handle centerpiece, a round bowl whose geometric lines are enhanced by a simple wavy golden ornamentation.
EIGHT-SIDED BOWL
The eight-sided bowl is an octagonal design composed of perfectly smooth surfaces.
FOUR-PART WATER PITCHER
Four-part water pitcher called "Normand" designed by Christian Fjerdingstad in 1926 after the 1925 exhibition which gave its name and impetus to the new Art Deco style.
The 1925 bookmark: a depiction of the iconic carafe from Christofle's 1925 Service. A minimalist object that perfectly embodies the simplicity and geometry of Art Deco.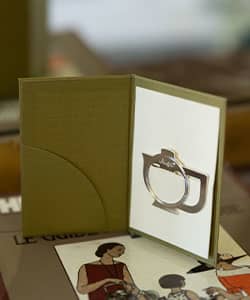 The Carrier-Belleuse bookmark: a depiction of the "Success Through Unity" Coffee Pot designed in 1880 by the famous sculptor Albert-Ernest Carrier-Belleuse. A key figure in the 19th century renewal of Decorative Arts, he benefited from the trust and support of Emperor Napoleon III throughout his career.
GALLIA COLLECTION
THE RETURN TO NATURE
Created at the turn of the 20th century, at the time of the famous 1900 Paris Exposition, the Gallia collection takes its name from a tin alloy of enormous importance in its time.