Valentine's Day Gift for Women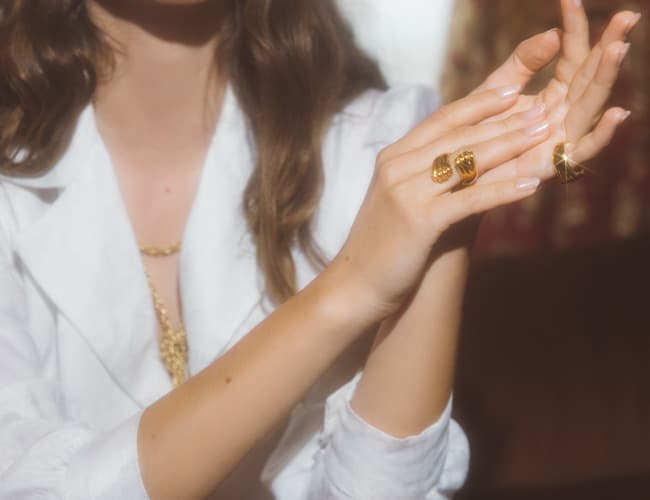 Traditional but timeless, silver jewelry is THE sure value for an unforgettable Valentine's Day gift.
Among all Christofle's most sought-after pieces, one collection stands out for its extraordinary beauty and manufacturing, as well as its rarity: the Peau de Lion collection designed in 1867 by Prince Louis-Napoléon's architect and decorator, Charles Rossigneux.
This year, paying tribute to this marvellous collection, discover a bold jewellery collection composed of fourteen items, entitled "Patte de Lion".
To celebrate Valentine's Day,
get a complimentary silver-plated votive
For any purchase above 2,000€ from January 24th until February 9th 2022*
*Offer valid until February 9th 2022 on christofle.com only.
One silver-plated Vertigo votive valued at 210€ VAT included with any purchase above 2 000€ (limited stock available).
VALENTINE'S DAY OFFER
Christofle offers you a €50 voucher
for any purchase until February 14th, 2023
to use on a future purchase of €500 or more*
*Offer is limited to purchases on www.christofle.com only: a €50 voucheroffered for any online purchase, with no other offer, until February 14th, 2023 included,
to use on a future purchase of €500 on the website www.christofle.com
Voucher is valid until June 30th, 2023 - Redeemable at once - Cannot be combined with any other offer
Patte de Lion
Patte de Lion collection consists of nine solid silver pieces :
a pendant, earrings, a cuff, a necklace and rings in three models: an open ring, a cuff ring and a cross ring.
IDOLE DE CHRISTOFLE COLLECTION
Discover or rediscover the Idole collection de Christofle. Designed by Andrée Putman, it features the famous "twisted ring" that is the hallmark of one of our most emblematic collections.
A true piece of art, jewelry completes a look and offers the wearer a chance to affirm personal style. Through its creations for men and women, the Maison Christofle shapes brilliance radiance and elevates silver with audacity and modernity.
VERTIGO COLLECTION
Transposed on a wide range of decorative accessories in the Vertigo collection,
it is this same ring that comes to adorn silver trays, champagne buckets and candelabras to offer you all the vertigo of Love...
Designed by Andrée Putman in 2000, "Vertigo" brilliantly illustrates the design concept of its creator:
Combining a simple and pure aesthetic with the functional function of objects.
VALENTINE'S DAY GIFT IDEAS FOR WOMEN
She's your soulmate, your companion, your fiancée, your +1, your partner... Whatever you call her, Valentine's Day is the best time to tell her how much she means to you. So, looking for gift ideas for her? Discover below our selection of Valentine's Day gifts for women.
The essential silver jewelry
Christofle's Idole Collection "twisted" rings comes in all forms of sterling silver jewelry, starting with the iconic silver ring designed by Andrée Putman. The matching silver earrings will combine refinement and modernity, unless you opt for a cuff bracelet for the most beautiful effect. And if you're looking for an exceptional Valentine's Day gift, opt for our white gold and diamond versions for a present that will mark this exceptional day with a… white stone.
An elegant photo frame
It will proudly stand on a mantelpiece, a nightstand or on her desk at work. It will host with emotion the photo of your couple or some beautiful souvenirs.... Who is it? The silver photo frame: whether you choose the sober elegance of the Fidelio collection or the abundant baroque of the Jardin d'Eden collection, all of them are available in multiple sizes and formats...
Whether you choose one or the other, it is for you the guarantee of a successful Valentine's day gift and for her the joy of memories that will accompany her throughout her life.