Key Flatware Collection for Professionals
Remaining true to the spirit of its founders who loved modernity and innovation, Christofle is now highlighting three silver-plated emblematic cutlery models of the Maison.
COLLECTIONS AVAILABLE FOR PROFESSIONALS
INFINI
The Christofle silversmith's house revisits table practices with its new collection of essential cutlery called Infini Christofle. The Christofle Studio has created Infini Christofle by rethinking each element of cutlery present in a traditional service to offer 15 quintessential pieces, including 2 pieces to serve. Like an extension of the hand, the Infini Christofle flatware offers new sensations.
MOOD
Christofle Studio is shaking up the traditional codes of tableware with an original concept that is perfectly in tune with the times. Created to celebrate the art of contemporary sharing, the MOOD by Christofle has quickly become a popular object. With its pure lines and timeless design that make it a superb decorative object, it invites itself on tables where it is good to celebrate everyday life in all elegance and relaxation. Discover the MOOD collection
MALMAISON
The "Château de Malmaison" near Paris was the favorite residence of Napoleon Bonaparte and Empress Josephine. The palm and lotus leaf frieze and the symmetry of the decoration are typical of the Empire style, which was largely inspired by Antiquity.
Malmaison, whose cutlery is distinguished by its elegance, is one of the most emblematic collection from the Maison Christofle.
OUR STEEL BEST SELLERS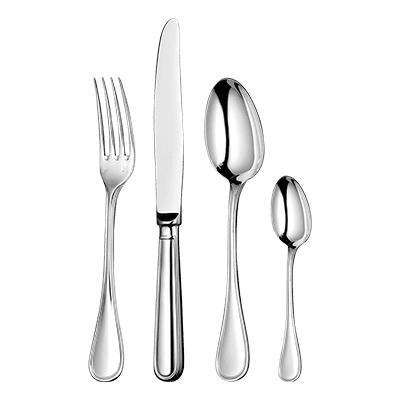 This collection takes its name from the French town of Albi. The clean, straight lines and single nave in the famous fortified Albi cathedral inspired the design.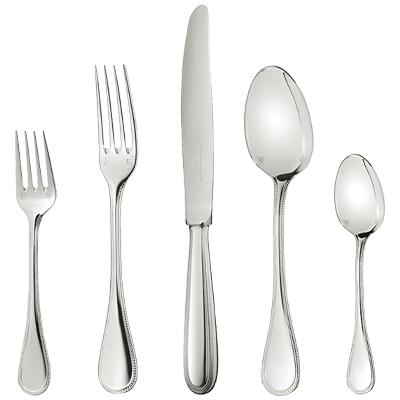 The alignment of beads in halfrelief is typical of Louis XVI ornamentation. This classic and feminine design outlines the contours of the flatware like a pearl necklace.


Imagined by the Catalan designer Eugeni Quitllet in 2014, the Christofle Soul cutlery collection accompanies both a designer and a classic table to which it will bring strength and modernity.