Wedding Gifts for the couple

The wedding announcement has just arrived, the date is set: you are invited to celebrate the union of a close friend or even a family member. The crucial question immediately arises: what wedding gift should you give as a lasting token of your affection? For almost 200 years, Maison Christofle has been helping newlyweds to furnish their new home with silver flatware, champagne buckets, and other home decorations... Here you will find our suggestions for the elegant wedding gift that will accompany the newlyweds throughout their life together.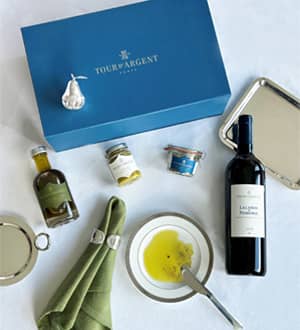 CHRISTOFLE IS DELIGHTED TO OFFER YOU
A TOUR D'ARGENT GOURMET BOX
for any purchase from 1 000 € until June 18th, 2023 on Christofle.com or in store*
*Offer valid until June 18th, 2023, while stocks last, for any purchase from 1 000€.
Valid on www.christofle.com/eu_fr, www.christofle.com/eu_en and in European area Christofle boutiques (excluding UK boutiques). A Tour d'Argent gourmet box consisting of a red wine bottle (Bordeaux), Marco Polo Salt (green pepper), aspargus spread, virgin olive oil with matured olives.
Offer cannot be combined with othe current offers.
Flatware sets
Maison Christofle offers a wide choice of collections adapted to all tastes:
With its ease of use and refined aesthetics, the MOOD By Christofle egg is the ideal gift for casual dinners. Maison Christofle offers a variety of its iconic MOOD: MOOD Precious and its copper-colored case, MOOD Gold and its 24-carats gilded case, MOOD Asia dedicated to the Asian gastronomy, MOOD Coffee for moments of conviviality and MOOD Easy, ideal for aperitifs or desserts.
For a more traditional gift, chose the elegance and the timlessness of Malmaison, Marly or Perles collections.

Infini Christofle, l'Âme de Christofle or Jardin d'Eden collections offer a contemporary shapes with a more modern look.
Trays
Iconic gift, the Christofle silver-plated tray accompany with refinement a whole reception life, and will surprise the newlyweds. The Anémone-Belle Epoque tray, modern reinterpretation of the Art Nouveau movement, will dazzle the bride and the groom's dining room. More contemporary, the Vertigo tray will combine aesthetics and practicality in the couple's home.
Champagne buckets
Essential to refresh aperitifs, the K+T champagne bucket combines aesthetic and practicality, and will dazzle the more beautiful couple bottles.

More traditional, the Malmaison champagne bucket is firmly chic. Its ornaments give a statutory imprint to the table and to all the moments which are lived there.

With its contemporary design, the Vertigo champagne bucket s'inscrira parfaitement dans les moments festifs organisés par le couple.

More floral, the Anémone-Belle Epoque champagne bucket will delight the newlyweds, who will be able to celebrate any occasion with dignity.
Decoration and accessories
To enhance their decor, the couple will be delighted to receive a tablecloth embroidered entirely by hand.
The Sarah Espeute Tablecloth for Christofle is available for 6 people.

Elegant and refined decorative objects, the Malmaison candlestick and candelabra will illuminate festive tables and aperitifs organized by the couple. With a more contemporary design, the Arborescence candelabra will bring style and modernity to any room.
Finally, the Perles, Jardin d'Eden or Fidelio photo frames are ideal pieces to highlight these special life moments making them last forever.